Exploration of gut microbiota: challenge for unraveling of microcosmos
Most of the animals on the earth possess commensal microbes in their gastrointestinal tract (GIT), which is called "microcosmos". GIT commensal microbes play a vital role in maintaining the host's life in terms of nutrition and health. We explore the GIT microcosmos to identify the key players for animal nutrition/health. The pieces of knowledge of our research will contribute to the improvement of animal performance by controlling the activity of key players in the GIT commensal microbes.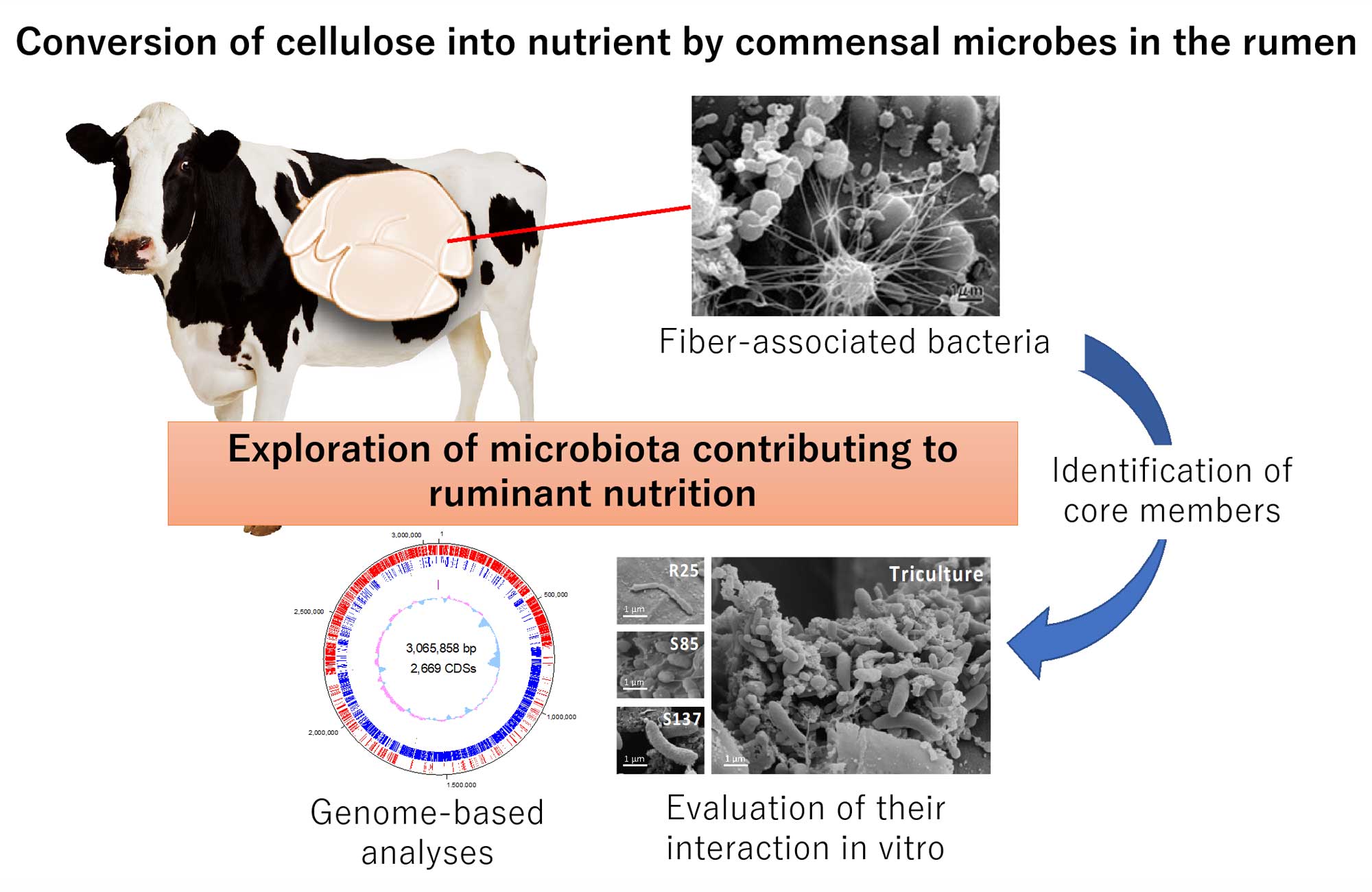 Publications
Fukuma, N., Koike, S., and Kobayashi, Y. Involvement of recently cultured group U2 bacterium in ruminal fiber digestion revealed by coculture with Fibrobacter succinogenes FEMS Microbiology Letters 336, 17-25 (2012).
Shinkai, T., Ueki, T., Koike, S., and Kobayashi, Y. Determination of bacteria constituting ruminal fibrolytic consortia developed on orchard grass hay stem. Animal Science Journal 85, 254-261 (2014).
Fukuma, N. M., Koike, S., and Kobayashi, Y. Monitoring of gene expression in Fibrobacter succinogenes S85 under the co-culture with non-fibrolytic ruminal bacteria. Archives of Microbiology 197, 269-276 (2015).
Research topics
Research topic 1 | Development of functional feeds for better animal production
Research topic 2 | Exploration of gut microbiota: challenge for unraveling of microcosmos
Research topic 3 | Developmental mechanisms of gastrointestinal tract in cattle