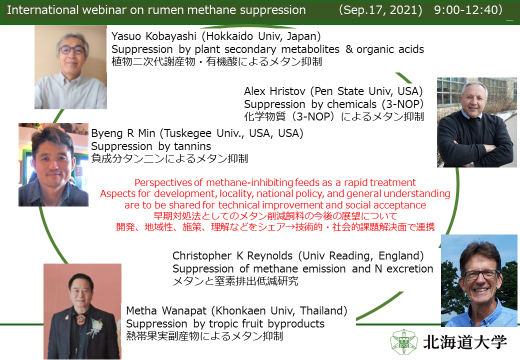 International webinar on rumen methane suppression 
(Jointly organized by Hokkaido University, Japan & Seoul National University/the Korean Society of Rumen Function Studies, Korea)
Methane gas from ruminant livestock has been considered one of the significant factors in global warming and the loss of feed energy. Through the control of rumen fermentation, methane can be minimized and more energy can be converted to animal products, leading to both mitigation of global warming and improvement of cattle production. Due to the increase of human population, we are facing the urgent problem for food security. Methane suppression in ruminant livestock sector can ease the issues on global environment and food supply at the same time if successfully proceeded. Currently, several different approaches to rumen methane suppression are being explored and/or applied; development of methane-inhibiting agents, selection of low methane emitting cattle, vaccination of animal against methanogens and others.
The purpose of this webinar is to share and discuss recent situation of rumen methane mitigation in each country from viewpoints of governmental policy, general understanding, methane-inhibiting strategies, and research trends. 
Date & Time:
From 9:00-12:40, Friday, September 17 (Korea & Japan time)
9:00-9:10 Opening addresses
Prof. Myunggi Baik, Seoul National University; President of the Korean Society of Rumen Function Studies; PI of environmental-friendly feed survey project, Republic of Korea
Prof. Kazuhiro Chiba, President of Tokyo University of Agriculture and Technology; Program Director of Moonshot projects, Japan
9:10-9:45
Prof. Yasuo Kobayashi, Hokkaido, University, Japan, Rumen methane suppression toward low carbon ruminant production
9:45-10:20 (20:45-21:20, Thursday, September 16 in US Eastern Daylight Time)
Prof. Alex Hristov (Penn State Univ., USA): Viable mitigation strategies for enteric methane
10:20-10:55 (20:20-20:55, Thursday, September 16 in US Central Daylight Time)
Dr. Dr. B. Min, (Tuskegee Univ., USA): Dietary mitigation of enteric methane emissions and animal production from ruminants.
10:55-11:10 Coffee break
11:10-11:45
Prof. Christopher K Reynolds (Univ Reading, England): Strategies for More Sustainable Dairy Production Systems (recording distribution)
11:45-12:20 (9:45-10:20 in Thai time)
Prof. Metha Wanapat, (Khonkaen University, Thailand): Feeding interventions to increase rumen fermentation efficiency and to mitigate methane production. 
12:20-12:40 Overall discussion
12:40-12:50 Closing speech 
Emeritus Prof. Jong Ha, Seoul National University
Editor-in-Chief, Animal Bioscience
Webinar overall chairperson & Modulator 
Prof. SW Seo, Chungnam National Univ., Republic of Korea
※ Also technical arrangement for Zoom 
Chairpersons
Dr. David Joon-Pyo Oh, Cargill Agri Purina Inc. & Dr. Makoto Mitsumori, NARO, Japan
---
Venue: Cyberspace (Zoom meeting ID: 810 5863 1133, PW: 1996)
Link:  https://cnu-ac-kr.zoom.us/j/84037092462?pwd=UjhVZ2VSZnp5ZzFSbVpuNGFBbjlkUT09
For more information: e-mail to Assist. Prof. Yutaka Suzuki, Hokkaido University
yutasuzu(at)anim.agr.hokudai.ac.jp
---